Il Giardino di Bonamorone is an ancient garden of 40,000 square meters surrounded in the heart of Valley of the Temples park, in a flourishing organic citrus grove with millennial-old Saracen olive trees, white myrtle, oaks, cypresses, and spontaneous vegetation sprung up over the centuries. The uniqueness is the view of the Temples and the Mediterranean Sea that can be admired from various points of the property, beautiful in the day, to be enchanted in the night. Far from the noise, in an oasis of peace, the estate guarantees an experience of absolute relax.
The Garden overlooks the entire crag of the Valley which is few hundred meters away, fifteen minutes from the historic city center of Agrigento, about six kilometers from the sea and fourteen kilometers from the famous Scala dei Turchi.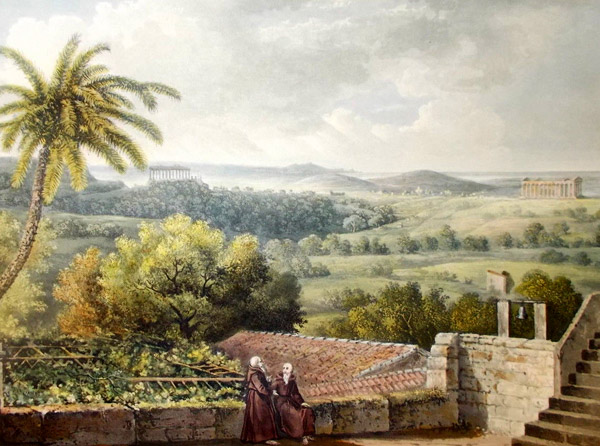 His Own Story
The garden intertwines its origins with the ancient monastery of the Capuchin friars, of which this ancient painting is testimony.
From the book "Villa Genuardi and the historical gardens of Agrigento" in the section "The Garden of the Capuchin Fathers of Bonamorone", the garden is spotted in a convent that at the end of the nineteenth century became "Villa Giambertoni", now owned by Palmisano La Lumia family.
THE LARGE OLIVE TREE OF BONAMORONE
Scientific name: Olea europaea L.var. europaea Family: Oleaceae
The millenial-year-old olive tree has a monocormic stem, furrowed by deep grooves. The cavity of the basal area is configured as a "small cave". The stem at 1.5 meters above the ground is divided into 7 branches..
(partial cit. Villa Genuardi and the historical gardens of Agrigento)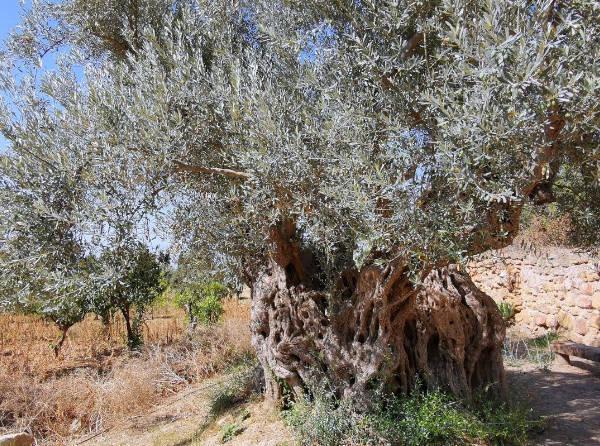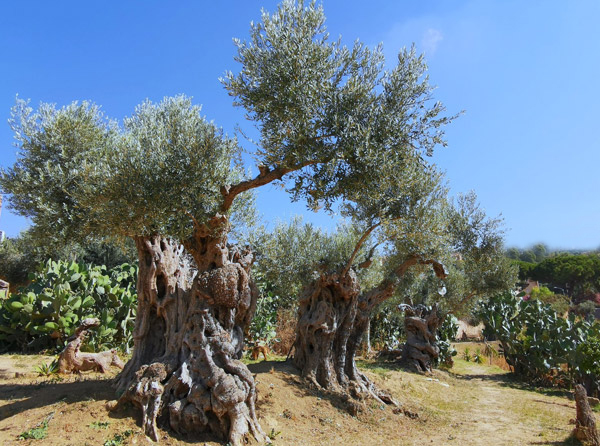 GEMINI OLIVES:
CASTOR AND POLLUX
Scientific name: Olea europaea L.var. europaea
These are two ancient hundreds olive trees with a monocormic trunk furrowed by deep grooves, which are ideally configured as pillars of an access gate to a villa.
(partial cit. Villa Genuardi and the historical gardens of Agrigento)
OLIVE TREE OF LOVERS:
LOVE AND PSYCHE
Scientific name: Olea europaea L.var. europaea
It is a centuries-old olive tree with a single-arched trunk furrowed by deep helical grooves, which are ideally configured as the embrace of two lovers
(partial cit. Villa Genuardi and the historical gardens of Agrigento)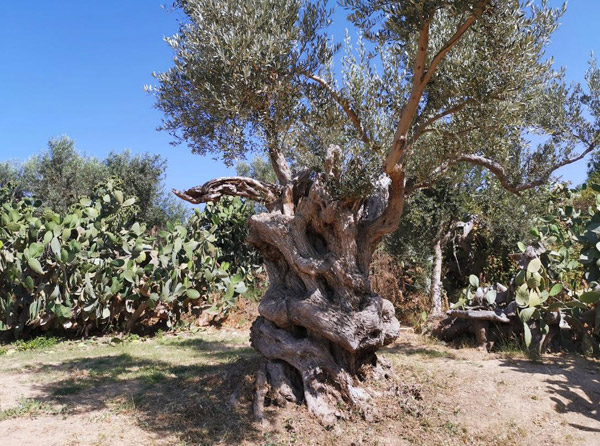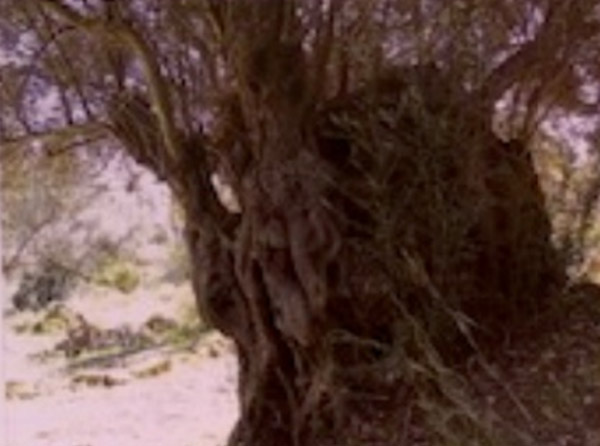 WILD BOAR OLIVE
Olea europaea L.var. europaea Family: Oleaceae
Large millenary olive tree with a mighty trunk dotted with numerous cavities that seem to enclose and jealously guard the memories linked to the historical events of the last thousand years.
(partial cit. Villa Genuardi and the historical gardens of Agrigento)
The citrus grove and the plants